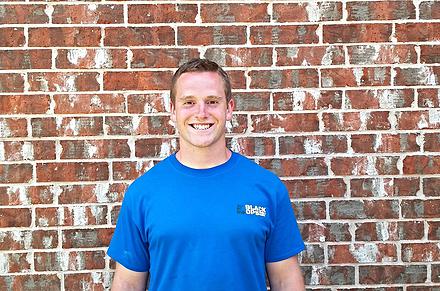 Dillon Bramblitt
Owner, Crew Leader
Dillon began working for a local moving company to help pay for the University of North Texas and quickly worked his way up the ladder as a crew leader, moving consultant, and sales representative. Now, he aims to provide a moving service that goes above and beyond the standard and that breaks new ground in moving technology and innovation.
Outside of moving, Dillon's a bit of weightlifting enthusiast. A former state champion powerlifter, national strongman competitor, and crossfit regional athlete, moving furniture is his idea of "active recovery".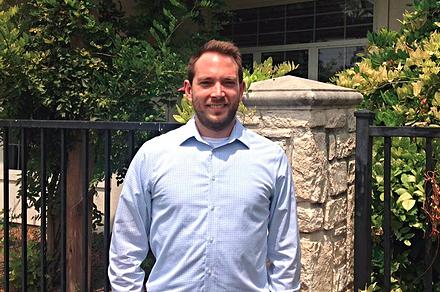 Robert Murphy
Sales Executive/Moving Consultant
With the majority of his work experience in the oil field, there's no doubt that Robert's work ethic is on par with a fast pace moving company like ours. In addition, Robert would say that his two daughters motivate him to succeed more than anything. These two
driving forces are exactly what we look for in an advocate for our company and the expert services that it provides.
Off of the clock, Robert is a sports fanatic and enjoys playing pick-up games of basketball and baseball with friends. That is, if his little girls aren't pleading to spend hours on end at the pool!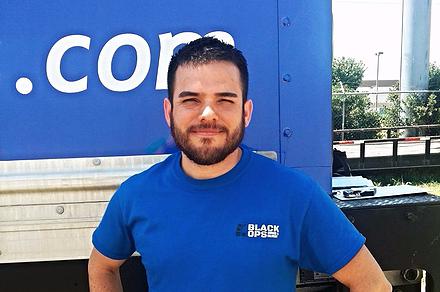 John McIntosh
Crew Leader/Moving Consultant
A UNT graduate and United State Marine, John sought to shake the moving industry with his expertise in marketing and social networking; innate skills that were honed to perfection through exensive military training. John has always had an entrepreneurial mindset that coincided with his "go-getter" attitude in his approach to any and all challenges.
However, while puzzles and problem-solving is his passion, John's ability to connect with others on a deep and personable level is his gift. Off the trucks, John enjoys country dancing, cycling, and spreading God's good word.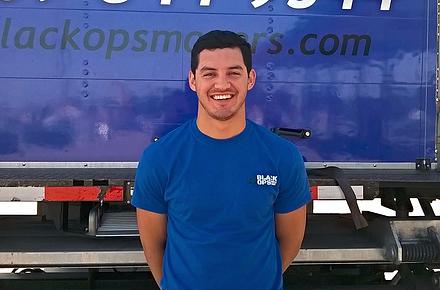 Austin Martinez
Crew Member
Having a long history of participating in team sports, Austin is a hard worker that knows how to work effieciently with a team to reach a goal. He takes pride in his work and is always pushing himself to advance his skills.
When he isn't on the job, Austin is student at UNT with a major in Biology. If he isn't studying or helping you move, he enjoys working out and hanging out with his friends. His main hobbies include watching college sports, playing basketball at the gym, and playing video games.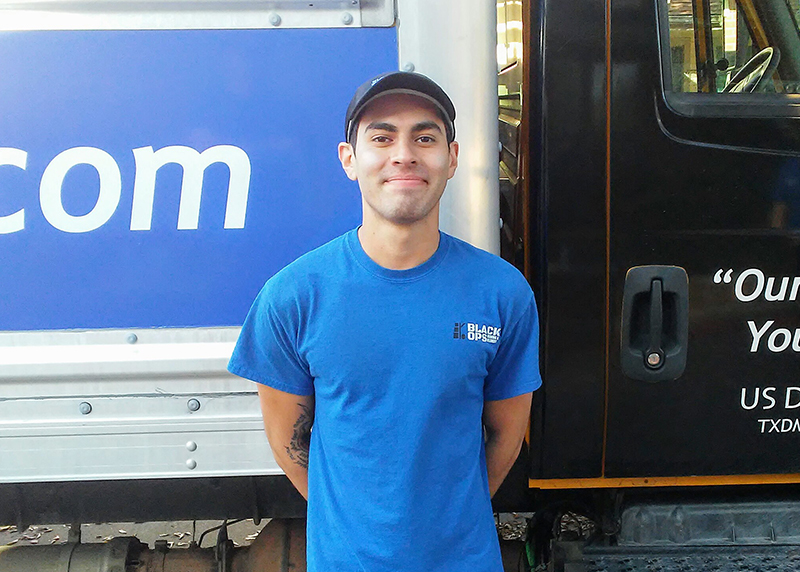 Andrew Deleon
Crew Leader
Camping enthusiast and adventurer in his free time, Andrew likes working in a physical environment. What he loves more than the great outdoors, however, is a good conversation. Our crews and customers alike enjoy having Andrew around as he tends to lighten up the mood and distract everyone from the task at hand with witty humor and interesting stories.
When it comes to moving, Andrew has years of experience under his belt which often reflects in how careful and meticulous he is in taking care of your belongings. All-in-all, you can rely on Andrew to give you a sigh of relief in a normally stressful situation.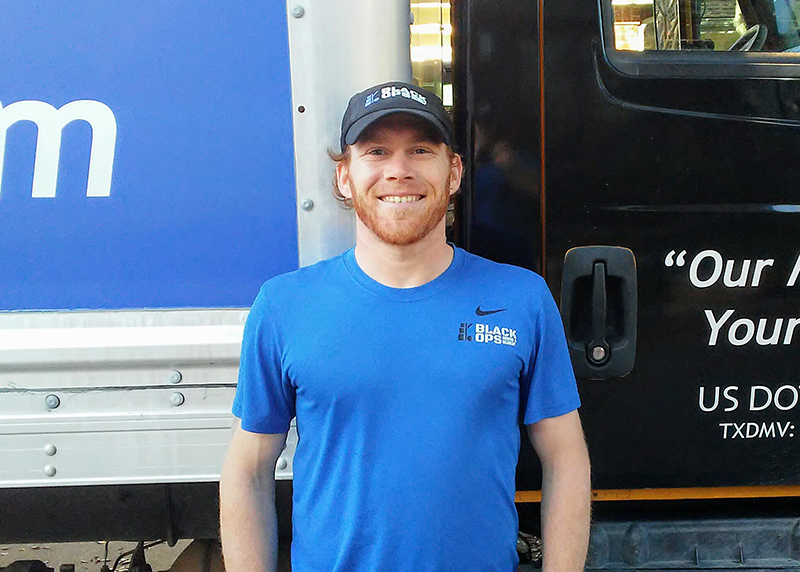 Ben Smith
Crew Member
Growing up and working as a tree trimmer with his father, Ben is no stranger to hard work. It wouldn't be a surprise to find him sprinting back and forth to the truck only to realize that he was moving something each trip all along in what seemed like a flash!
Aside from speed, integrity, and incomparable work ethic, you will notice that Ben is about as kind and patient as they come. These attributes come from being a father. Whether it's working, spending time with his son, or enjoying a well-deserved night out with his friends, you will never sense a dull moment with Ben.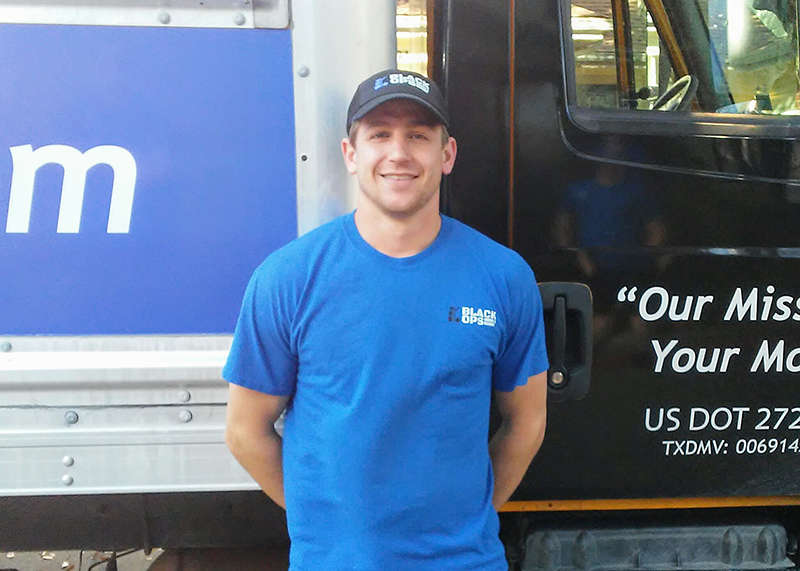 Brandon Jarvis
Crew Leader
A fellow UNT graduate, Brandon aspires to become an engineer and we hope to focus those aspirations into developing innovative moving tools/equipment that will make your next moving experience even more seamless. In the mean time, you can count on Brandon to continuously hone his skills as a natural leader, already devising a game plan on how to load your belongings before he even steps all the way through the front door.
In his free time, Brandon enjoys spending time with his friends and hitting the shooting range. I guess you can say that he's a sure-fire candidate to handle all of your moving needs!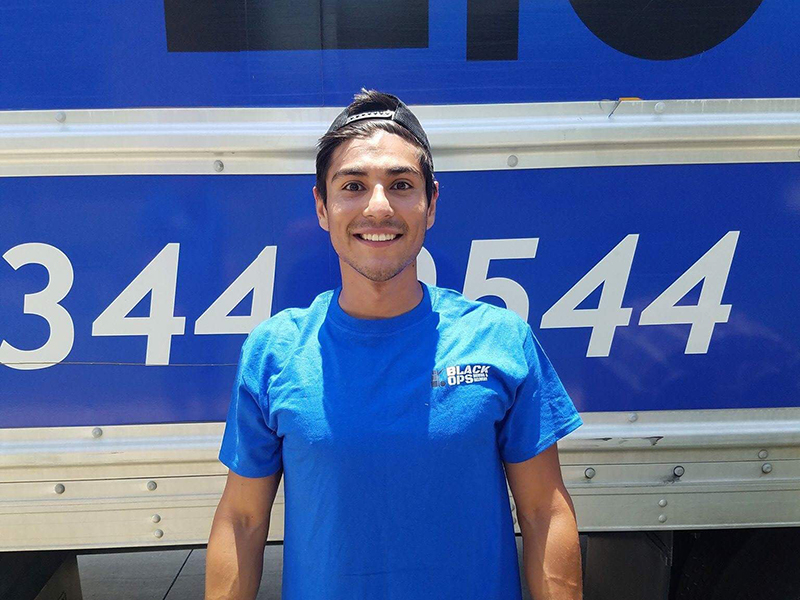 Jose Gonzalez
Crew Leader / Crew Member
Jose is a devout father whose world largely revolves around his son, fishing, hitting the gym, and enjoying the great outdoors. The fittest member of our team, Jose never skips a beat when literally running to and from your door while moving. Not to worry though, because Jose is quick and careful in equal measure. If you want your next move finished in a flash, be sure to request this stud!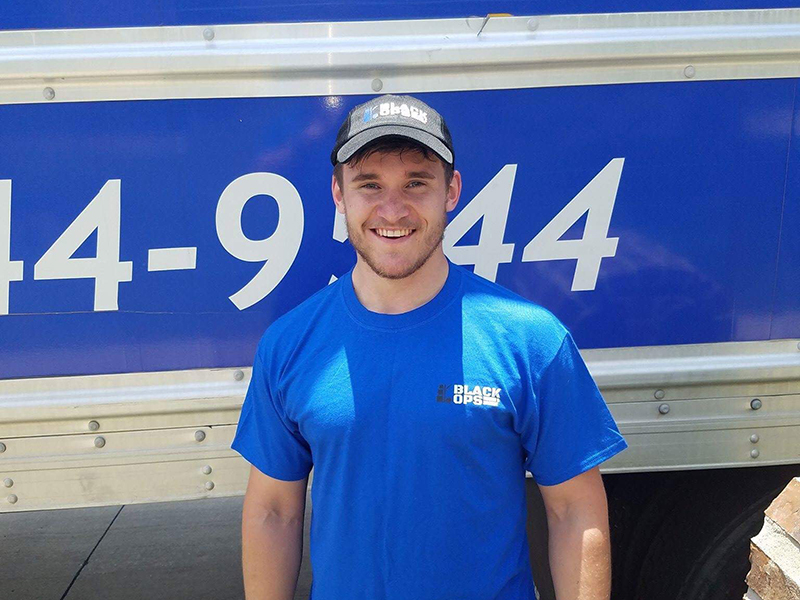 Tim Stanley
Crew Leader / Crew Member
A veteran from the United States Marine Corps, Tim exudes a level professionalism that stands unmatched. Tim leads his crews with all of the same tactics and strategies to ensure that your move gets done as quickly and as efficiently as possible.
Outside of work, you will probably find him playing video games or grabbing a brew with friends or family. Not only will he beat your estimate, but he can more than likely beat you in 'Call of Duty'!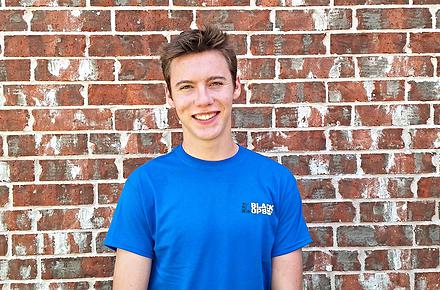 Grant Morgan
Crew Member
The youngest member of the team is, Grant is certainly one of the most hard-working, enthustiastc movers you will ever meet. With his outgoing personality, he strives to make every move a top notch experience for you.
When he is not helping you move, Grant can usually be found on the track. He competes in decathalons year-round and runs cross country as well. Other hobbies include: photography, video production, and music production.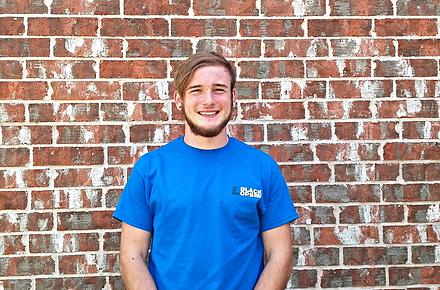 Bradley Scruggs
Crew Member
With a great work ethic and a nack for efficiency, Bradley is an definite asset to the Black Ops team. He has a very can-do attitude and is willing to help out the best he can with whatever he is asked to do.
When Brad's not out working, he will usually be found fixing/adding on to his homemade computer or is out at the rock climbing gym. His hobbies also include playing guitar, testing out local restaurants, and collecting vintage video games.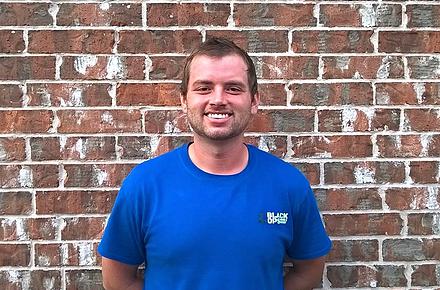 Matt Holcomb
Crew Member
Having a long history in working in team enviroments, Matt is an efficient worker who goes the extra mile to provide an exceptional service. He pays attention to details and stays focused on customer needs. He takes pride in making your moving experience as smooth and stress free as possible.
When he is not at work, Matt is currently completing his business degree at Tarleton State.. He also enjoys watching sports, working out, and spending time with friends and family.
Off of the clock, Robert is a sports fanatic and enjoys playing pick-up games of basketball and baseball with friends. That is, if his little girls aren't pleading to spend hours on end at the pool!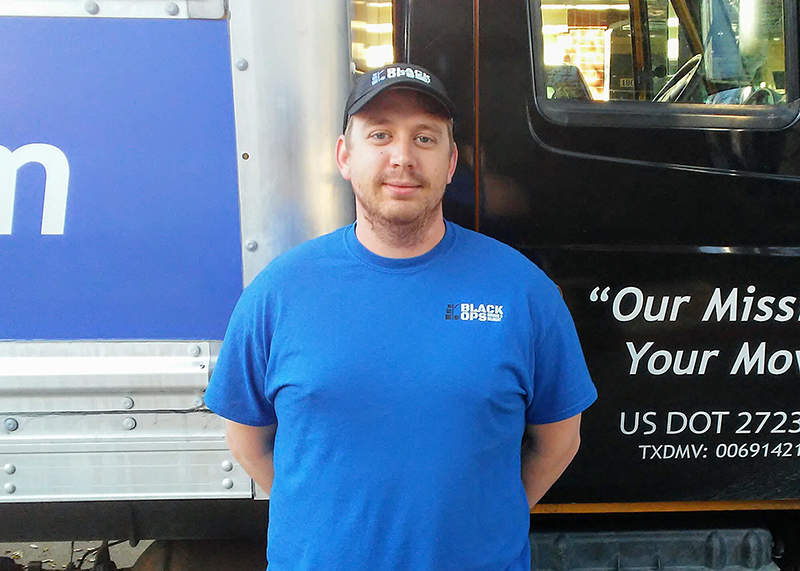 Patrick Bryant
Crew Member
"Patty", "Pat the Bat", "The Mad Patter"; Patrick goes by many names, most of which he comes up with himself. This just goes to show you how light-hearted and downright hilarious this man can be. Between bouts of laughter, you will also find that Patrick is a bit of movie and music buff and, particularly, a connoisseur of hip-hop and rap.
That being said, Patrick has been working in the moving business for several years himself and is no freestyler when it comes to making sure that your move goes without a hitch.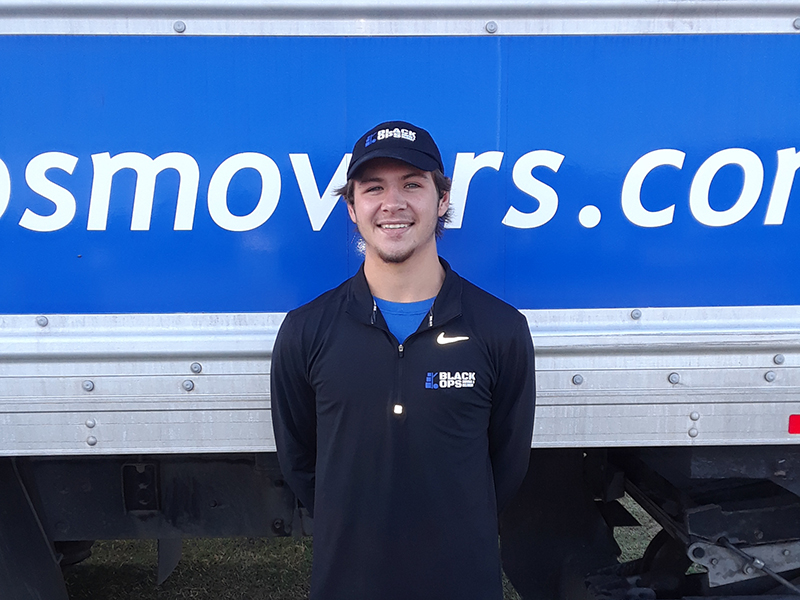 Lane Bogan
Crew Member
The self-proclaimed good looks of Black Ops Moving, Lane is the charismatic goofball of the bunch. That being said, his humor doesn't even come close to touching his insane work ethic and aptitude for learning the ins-and-outs of becoming a professional mover as the newest addition to the team. Before moving, Lane worked as a landscaper and in mobile home logistics. This guy is who you should really be anticipating showing up to your next move!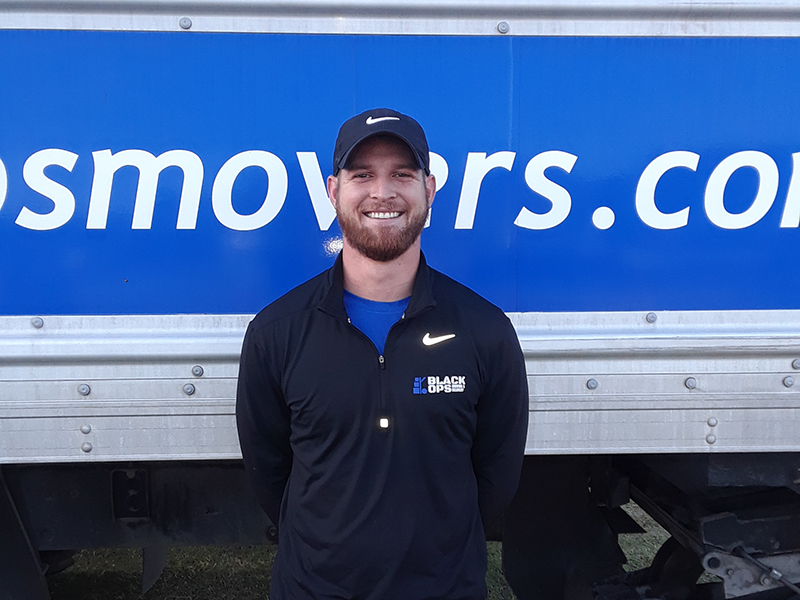 Tyler Jackson
Crew Leader
Tyler is in a class of his own when it comes to customer service and making the move a personable experience. With years of experience in the field and a top-tier attitude, it is safe to assume that there is no task too large or complicated to throw this veteran. Tyler, interestingly enough, is an aspiring baker in his spare time with dreams of someday opening his very own bakery, so you can trust this man will show you the sweet and fun side of moving.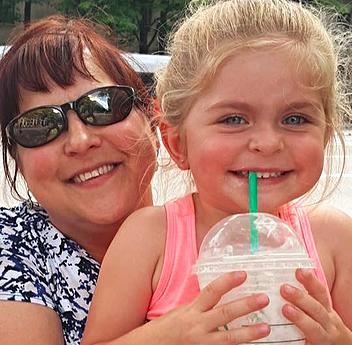 Johnnie Burttschell
Office Manager
A dedicated wife and mother, first and foremost, Johnnie exemplies the principles, ethics, and morals that we value most at Black Ops Moving and Delivery. In addition, she is a natural wiz when it comes to managing finances so it only made sense that she oversee our sales operations.
Whether you're on the phone with Johnnie or happen to bump into her in person, you won't be able to help but become absolutely enthralled with her sweet spirit and stunning charm.